May 19th, 2022
What Size Bed Should You Choose?
There are so many things to consider when you're buying a bed or mattress – not least what size you should opt for. If you're buying a bed for two adults then there are a number of things that you need to consider.
Length of Bed
Firstly, the length. It is advisable to buy one that is at least 10cm longer than the tallest person. The last thing you want is for your feet to be dangling over the end of the mattress or having to curl your legs up.
The length of a standard UK double bed is only 190cm (6ft 3"), so anyone taller than 5ft 11" (180cm) should really opt for one that is 200cm (6ft 6") in length. A UK king size bed measures 200cm in length, as does a superking size, so either of these options would be preferable.
If you're a particularly tall person, some bed manufacturers make products that are 215cm (7ft 0") in length. Alternatively, you could choose to purchase a 'bed extender' type product.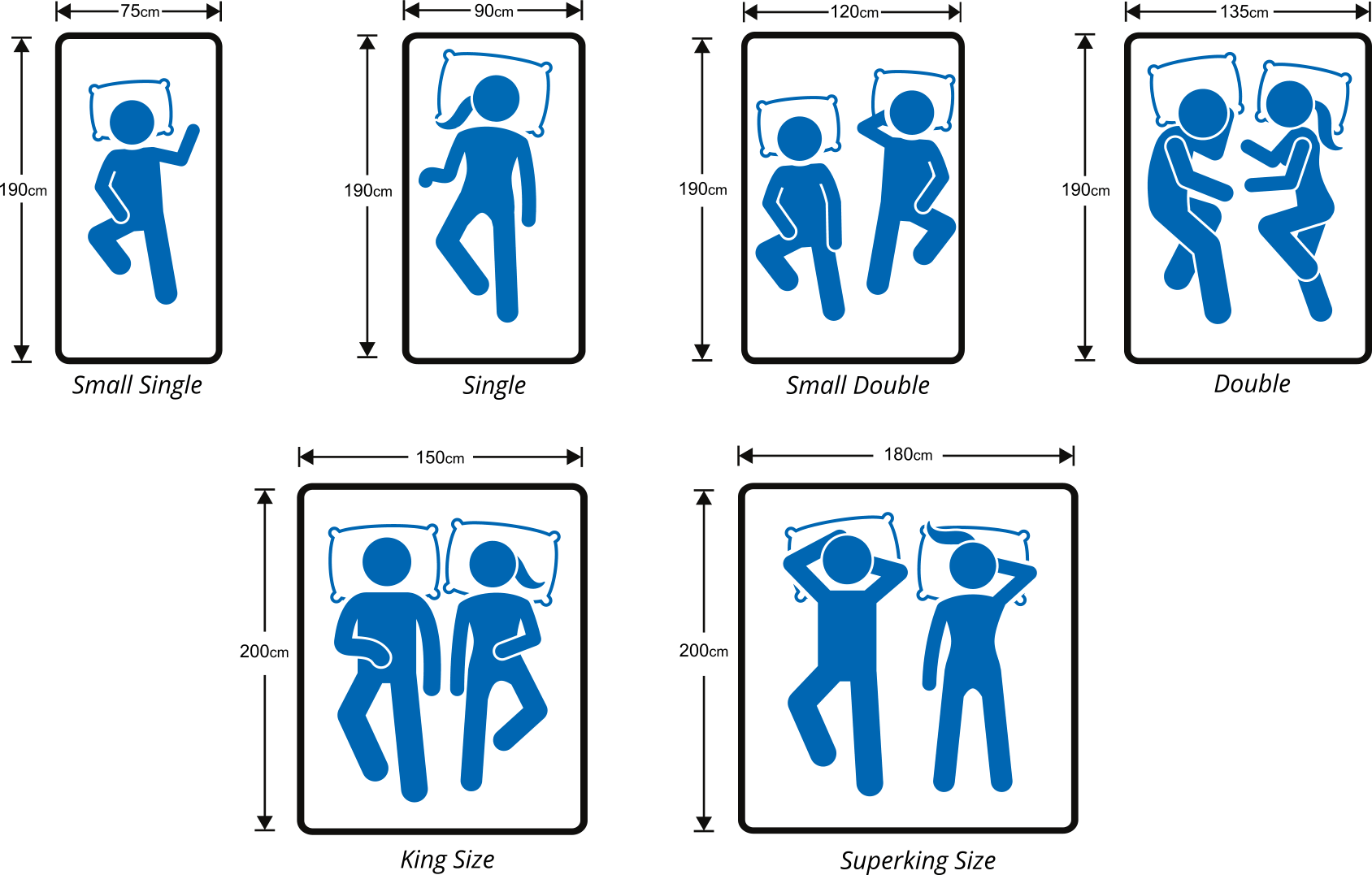 Width of bed
The majority of British couples still sleep in a standard double size bed which is only 135cm (4ft 6") wide. This provides each user with just 67.5cm or about 2ft 3" of space each which is less than we give a baby in a cot! It's certainly very cosy for two people and with so little room to move, you're more likely to disturb your partner every time you change position, resulting in a poor night's sleep. However, some couples prefer to sleep in close proximity to each other, claiming that it improves intimacy compared to sleeping in a much bigger bed where you literally have to go searching for your partner!
Although the illustration above shows two people sharing a small double (120cm or 4ft wide) bed, we would only suggest this size as an occasional bed for two people. This size would be more suitable for a single user, especially with UK studies showing that we're getting bigger and heavier due to our diet and sedentary lifestyles!
| NAME | IMPERIAL SIZE | METRIC SIZE |
| --- | --- | --- |
| Small Single | 2'6″ x 6'3″ | 75 x 190 cm |
| Single | 3′ x 6'3″ | 90 x 190 cm |
| Small Double | 4′ x 6'3″ | 120 x 190 cm |
| Double | 4'6″ x 6'3″ | 135 x 190 cm |
| King | 5′ x 6'6″ | 150 x 200 cm |
| Super King | 6′ x 6′6" | 180 x 200 cm |
So with partner disturbance a major cause of poor sleep, buying a bigger bed should result in a better night's sleep. When trying out a bed for size, lie next to your partner on your backs and put your hands behind your head with your elbows sticking out. If your elbows don't touch your partners' then you have enough space to sleep comfortably.
The number of couples sleeping in separate beds is on the increase. In the Sleep Council's Great British Bedtime Report from 2017, 12% said they slept apart compared to only 8% in 2013. Nearly a quarter of couples also reported sleeping apart at least some of the time. If you're one of those who prefer to sleep in your own bed but still wish to be in the same room as your partner, the most popular option is the standard single bed which measures 90cm or 3ft wide, giving you plenty of room to get comfortable.
If you have a large bedroom, you could consider buying two single beds or even opt for a zip and link set where the two beds can be joined together to form a super king size. Having said that, many modern houses tend to have smaller bedrooms as the demand for 4 or 5 bedroomed properties results in a squeeze on room sizes upstairs. So, for many couples, a super king size bed is out of the question.
Here are just ten reasons why a bigger bed is better:
Because a standard double bed (135cm/4ft 6in) gives each person just 2ft 3in of space – less than a baby in a cot.  Now how squeezed is that?
Ergonomic studies show that couples sleep better in a bigger bed. Before the trials only 15% said they would buy a larger than standard bed.  Afterwards 50% said they would. (Ergonomic pilot study by the National Bed Federation, 1995.)
Because you spend a third of your life in bed – by the time we are 50 we'll each have spent some 16 years in bed. If you are going to spend all that time there, why take the trip to dreamland in tourist class when you can go first class?
Because it doesn't necessarily cost a whole heap more to move up a size.  Over seven years, every £100 spent on a new bed costs just 3.9p per night.
Because 16 other countries can't be wrong!  That's how many boast bigger average bed sizes than Britain.  Top of the league are Belgium, Greece, Holland, Iceland, Finland and Switzerland where most people sleep in a roomy 160cm by 200cm bed.  By contrast we Brits still buy more 135cm by 190cm beds.
Because you spend as much as you can afford on the best possible house, holiday, car, kitchen, TV and sound system.  So why so stingy when it comes to buying a bigger bed?
Because you wouldn't want to get left behind! Although two-thirds of us still opt for the standard size, larger beds are becoming ever more popular among those with the bedroom space to take one: 33% of double divan and bedstead sales are now 5ft (king-size) or larger.  (GfK NOP Consumer Scope Beds and Mattresses Market Monitor, December 2010).
Because the average person wriggles and turns some 60 to 70 times a night – so you want to put as much space between you and your mate as possible to reduce the disturbance factor.
Because you may not be as young as you were – or as slim!  A 2014 report from the World Health Organisation said that 28.1% of adults in the UK were classified as obese in which case the 'two in a 4 ft 6ins scenario' could be putting a severe strain on your relationship.
Because once you've slept in a king-size, you'll never want to be a second-class sleeper again!